{"id":1337119211591,"title":"Magnetic Charging Cable Durable Lightning Reversible USB Fast Charging","handle":"magnetic-charging-cable-durable-lightning-reversible-usb-fast-charging","description":"\u003cp\u003e\u003cspan style=\"color: #ff0000;\"\u003e\u003cstrong\u003eAbout the product:\u003c\/strong\u003e\u003c\/span\u003e\u003c\/p\u003e\n\u003cul class=\"a-unordered-list a-vertical a-spacing-none\"\u003e\n\u003cli\u003e\u003cspan class=\"a-list-item\"\u003e\u003cstrong\u003ePREMIUM QUALITY, SUPERB DURABILITY \u0026amp; LUXURIOUS LOOK:\u003c\/strong\u003eThe auto-aim strong magnet head slot in easily and steadily, and won't get loose or fall out from your devices as your normal lightning cables. Nylon premium braided cord is tangle free and robust promises you.\u003c\/span\u003e\u003c\/li\u003e\n\u003c\/ul\u003e\n\u003cul class=\"a-unordered-list a-vertical a-spacing-none\"\u003e\n\u003cli\u003e\n\u003cspan class=\"a-list-item\"\u003e\u003cstrong\u003eFAST CHARGING \u0026amp; DATA SYNC CABLE:\u003c\/strong\u003e\u003c\/span\u003eE\u003cspan class=\"a-list-item\"\u003ensure up to 30% faster charging speed than most standard cables. Includes a Magnetic Anti-Dust Pin capable of Double-sided\/Reversible charge as well as Data syncing when connected to a Laptop. Blue LED lights indicate the charge and sync.\u003c\/span\u003e\n\u003c\/li\u003e\n\u003c\/ul\u003e\n\u003cul class=\"a-unordered-list a-vertical a-spacing-none\"\u003e\n\u003cli\u003e\u003cspan class=\"a-list-item\"\u003e\u003cstrong\u003eONE CABLE, MULTIPLE DEVICES:\u003c\/strong\u003eSave your time and quickly switch between your devices with just one hand. \u003c\/span\u003e\u003c\/li\u003e\n\u003c\/ul\u003e\n\u003cul class=\"a-unordered-list a-vertical a-spacing-none\"\u003e\n\u003cli\u003e\u003cspan class=\"a-list-item\"\u003e\u003cstrong\u003eMAGNETIC CHARGING CABLE WON'T BE IN YOUR WAY ANYMORE:\u003c\/strong\u003eWith our magnetic charging cable you may trip BUT your device will detach and remain safely on the tablet top!\u003c\/span\u003e\u003c\/li\u003e\n\u003c\/ul\u003e\n\u003cp\u003e\u003cstrong\u003e\u003cspan style=\"color: #ff0000;\"\u003eTransform Your USB-C Cables into a Magnetic USB-C Cables\u003c\/span\u003e\u003c\/strong\u003e\u003c\/p\u003e\n\u003cp\u003e\u003cstrong\u003e\u003cspan style=\"color: #ff0000;\"\u003e\u003cimg src=\"http:\/\/imgur.com\/s9b2uRf.gif\"\u003e\u003c\/span\u003e\u003c\/strong\u003e\u003c\/p\u003e\n\u003cp\u003eThis innovative design will perfectly avoid pointless fiddling to plug in cable even in the dark. Now you can spend less time plugging in and have more time enjoying the convenience that it brings to you.\u003c\/p\u003e\n\u003cp\u003e\u003cimg src=\"http:\/\/imgur.com\/72iK405.gif\"\u003e\u003c\/p\u003e\n\u003cp\u003eWhen Bolt Magnetic Cable is tugged or pulled, it detaches instantly, preventing your device from flying off the table when someone trips over the cable.\u003c\/p\u003e\n\u003cp\u003e\u003cspan\u003e\u003cimg src=\"\/\/cdn.shopify.com\/s\/files\/1\/0008\/0196\/4098\/files\/bomymjd8sbgwamvcyrwm_grande.png?v=1532684806\" alt=\"\"\u003e\u003c\/span\u003e\u003c\/p\u003e\n\u003cp\u003e\u003cspan\u003eUnlike other USB-C connectors, the magnetic tip of it is very small with only 2.2mm which is ⅓ smaller than the tiniest magnetic tip size on the market. It's so small that you'll hardly notice it. You can use it as a dust resistant plug to prevent dust from entering the charging port.\u003c\/span\u003e\u003c\/p\u003e\n\u003cp\u003e\u003cimg src=\"http:\/\/imgur.com\/dUyCZ5S.gif\"\u003e\u003c\/p\u003e\n\u003cp\u003e\u003cspan style=\"color: #ff0000;\"\u003e\u003cstrong\u003eMain Features\u003c\/strong\u003e\u003c\/span\u003e\u003c\/p\u003e\n\u003cp\u003e\u003cspan style=\"color: #ff0000;\"\u003e\u003cstrong\u003e\u003cimg src=\"https:\/\/c1.iggcdn.com\/indiegogo-media-prod-cld\/image\/upload\/c_limit,w_695\/v1519263452\/cpodazapg7lxmahlsqud.jpg\"\u003e\u003c\/strong\u003e\u003c\/span\u003e\u003c\/p\u003e\n\u003cp\u003e\u003cspan\u003eWe know your devices take a lot of daily abuse; that's why we made the extra durable. Premium neodymium magnets have been added to ensure instant connection, while each cable is put through the tensile test 4,000 times to make the Bolt more durable than any other cable on the market.\u003c\/span\u003e\u003c\/p\u003e\n\u003cp\u003e\u003cimg src=\"\/\/cdn.shopify.com\/s\/files\/1\/0008\/0196\/4098\/files\/QQ_20180727171928_grande.jpg?v=1532683441\" alt=\"\"\u003e\u003c\/p\u003e\n\u003cp\u003e\u003cspan style=\"color: #ff0000;\"\u003e\u003cstrong\u003eOur Guarantee\u003c\/strong\u003e\u003c\/span\u003e\u003c\/p\u003e\n\u003cp\u003e\u003cspan\u003eWe truly believe we carry some of the most innovative products in the world, and we want to make sure we back that up with a risk-free ironclad 90 day guarantee.\u003c\/span\u003e\u003c\/p\u003e\n\u003cp\u003e\u003cspan\u003eIf you don't have a positive experience for ANY reason, we will do WHATEVER it takes to make sure you are 100% satisfied with your purchase.\u003c\/span\u003e\u003c\/p\u003e\n\u003cp\u003e\u003cimg src=\"https:\/\/cdn.shopify.com\/s\/files\/1\/0008\/0196\/4098\/files\/5-23.111111111_grande.jpg?v=1527044071\" alt=\"\"\u003e\u003c\/p\u003e\n\u003cdiv style=\"text-align: center;\"\u003e\n\u003cspan\u003eClick the \u003c\/span\u003e\u003cspan\u003e\"\u003cstrong\u003e\u003cspan style=\"color: #990000;\"\u003eAdd to Cart\u003c\/span\u003e\u003c\/strong\u003e\"\u003c\/span\u003e\u003cspan\u003ebutton now!\u003c\/span\u003e\n\u003c\/div\u003e\n\u003cdiv style=\"text-align: center;\"\u003e\u003cspan style=\"color: #444444;\"\u003e\u003cstrong\u003eLimited Quantity - Will sell out fast!\u003c\/strong\u003e\u003c\/span\u003e\u003c\/div\u003e","published_at":"2018-09-05T16:04:16+08:00","created_at":"2018-09-05T16:04:25+08:00","vendor":"np904","type":"","tags":[],"price":1999,"price_min":1999,"price_max":1999,"available":true,"price_varies":false,"compare_at_price":3999,"compare_at_price_min":3999,"compare_at_price_max":3999,"compare_at_price_varies":false,"variants":[{"id":12611912990791,"title":"Black \/ Iphone","option1":"Black","option2":"Iphone","option3":null,"sku":"HW-235-BL-IP","requires_shipping":true,"taxable":true,"featured_image":null,"available":true,"name":"Magnetic Charging Cable Durable Lightning Reversible USB Fast Charging - Black \/ Iphone","public_title":"Black \/ Iphone","options":["Black","Iphone"],"price":1999,"weight":0,"compare_at_price":3999,"inventory_management":null,"barcode":null},{"id":12611913023559,"title":"Black \/ Android","option1":"Black","option2":"Android","option3":null,"sku":"HW-235-BL-AD","requires_shipping":true,"taxable":true,"featured_image":null,"available":true,"name":"Magnetic Charging Cable Durable Lightning Reversible USB Fast Charging - Black \/ Android","public_title":"Black \/ Android","options":["Black","Android"],"price":1999,"weight":0,"compare_at_price":3999,"inventory_management":null,"barcode":null},{"id":12611913056327,"title":"Black \/ Type-c","option1":"Black","option2":"Type-c","option3":null,"sku":"HW-235-BL-TY","requires_shipping":true,"taxable":true,"featured_image":null,"available":true,"name":"Magnetic Charging Cable Durable Lightning Reversible USB Fast Charging - Black \/ Type-c","public_title":"Black \/ Type-c","options":["Black","Type-c"],"price":1999,"weight":0,"compare_at_price":3999,"inventory_management":null,"barcode":null},{"id":12611913121863,"title":"Silver \/ Iphone","option1":"Silver","option2":"Iphone","option3":null,"sku":"HW-235-SI-IP","requires_shipping":true,"taxable":true,"featured_image":null,"available":true,"name":"Magnetic Charging Cable Durable Lightning Reversible USB Fast Charging - Silver \/ Iphone","public_title":"Silver \/ Iphone","options":["Silver","Iphone"],"price":1999,"weight":0,"compare_at_price":3999,"inventory_management":null,"barcode":null},{"id":12611913154631,"title":"Silver \/ Android","option1":"Silver","option2":"Android","option3":null,"sku":"HW-235-SI-AD","requires_shipping":true,"taxable":true,"featured_image":null,"available":true,"name":"Magnetic Charging Cable Durable Lightning Reversible USB Fast Charging - Silver \/ Android","public_title":"Silver \/ Android","options":["Silver","Android"],"price":1999,"weight":0,"compare_at_price":3999,"inventory_management":null,"barcode":null},{"id":12611913187399,"title":"Silver \/ Type-c","option1":"Silver","option2":"Type-c","option3":null,"sku":"HW-235-SI-TY","requires_shipping":true,"taxable":true,"featured_image":null,"available":true,"name":"Magnetic Charging Cable Durable Lightning Reversible USB Fast Charging - Silver \/ Type-c","public_title":"Silver \/ Type-c","options":["Silver","Type-c"],"price":1999,"weight":0,"compare_at_price":3999,"inventory_management":null,"barcode":null}],"images":["\/\/cdn.shopify.com\/s\/files\/1\/0015\/8967\/4055\/products\/60d2933620723f243acfb720422f21fe.jpg?v=1544513254","\/\/cdn.shopify.com\/s\/files\/1\/0015\/8967\/4055\/products\/QQ_20180727172055_cb73328a-b669-4c8d-a5aa-5f267b4c91cf.jpg?v=1544513254","\/\/cdn.shopify.com\/s\/files\/1\/0015\/8967\/4055\/products\/QQ_20180727172100_76038e67-be07-4b6d-9131-3559ccf508d8.jpg?v=1544513254","\/\/cdn.shopify.com\/s\/files\/1\/0015\/8967\/4055\/products\/QQ_20180727172111_dc21fda3-dc2c-421b-ac98-c7332e643077.png?v=1544513254","\/\/cdn.shopify.com\/s\/files\/1\/0015\/8967\/4055\/products\/bomymjd8sbgwamvcyrwm_d300dcbd-91c9-4073-b270-4b089aa8a33c.png?v=1544513254"],"featured_image":"\/\/cdn.shopify.com\/s\/files\/1\/0015\/8967\/4055\/products\/60d2933620723f243acfb720422f21fe.jpg?v=1544513254","options":["Color","Connector"],"content":"\u003cp\u003e\u003cspan style=\"color: #ff0000;\"\u003e\u003cstrong\u003eAbout the product:\u003c\/strong\u003e\u003c\/span\u003e\u003c\/p\u003e\n\u003cul class=\"a-unordered-list a-vertical a-spacing-none\"\u003e\n\u003cli\u003e\u003cspan class=\"a-list-item\"\u003e\u003cstrong\u003ePREMIUM QUALITY, SUPERB DURABILITY \u0026amp; LUXURIOUS LOOK:\u003c\/strong\u003eThe auto-aim strong magnet head slot in easily and steadily, and won't get loose or fall out from your devices as your normal lightning cables. Nylon premium braided cord is tangle free and robust promises you.\u003c\/span\u003e\u003c\/li\u003e\n\u003c\/ul\u003e\n\u003cul class=\"a-unordered-list a-vertical a-spacing-none\"\u003e\n\u003cli\u003e\n\u003cspan class=\"a-list-item\"\u003e\u003cstrong\u003eFAST CHARGING \u0026amp; DATA SYNC CABLE:\u003c\/strong\u003e\u003c\/span\u003eE\u003cspan class=\"a-list-item\"\u003ensure up to 30% faster charging speed than most standard cables. Includes a Magnetic Anti-Dust Pin capable of Double-sided\/Reversible charge as well as Data syncing when connected to a Laptop. Blue LED lights indicate the charge and sync.\u003c\/span\u003e\n\u003c\/li\u003e\n\u003c\/ul\u003e\n\u003cul class=\"a-unordered-list a-vertical a-spacing-none\"\u003e\n\u003cli\u003e\u003cspan class=\"a-list-item\"\u003e\u003cstrong\u003eONE CABLE, MULTIPLE DEVICES:\u003c\/strong\u003eSave your time and quickly switch between your devices with just one hand. \u003c\/span\u003e\u003c\/li\u003e\n\u003c\/ul\u003e\n\u003cul class=\"a-unordered-list a-vertical a-spacing-none\"\u003e\n\u003cli\u003e\u003cspan class=\"a-list-item\"\u003e\u003cstrong\u003eMAGNETIC CHARGING CABLE WON'T BE IN YOUR WAY ANYMORE:\u003c\/strong\u003eWith our magnetic charging cable you may trip BUT your device will detach and remain safely on the tablet top!\u003c\/span\u003e\u003c\/li\u003e\n\u003c\/ul\u003e\n\u003cp\u003e\u003cstrong\u003e\u003cspan style=\"color: #ff0000;\"\u003eTransform Your USB-C Cables into a Magnetic USB-C Cables\u003c\/span\u003e\u003c\/strong\u003e\u003c\/p\u003e\n\u003cp\u003e\u003cstrong\u003e\u003cspan style=\"color: #ff0000;\"\u003e\u003cimg src=\"http:\/\/imgur.com\/s9b2uRf.gif\"\u003e\u003c\/span\u003e\u003c\/strong\u003e\u003c\/p\u003e\n\u003cp\u003eThis innovative design will perfectly avoid pointless fiddling to plug in cable even in the dark. Now you can spend less time plugging in and have more time enjoying the convenience that it brings to you.\u003c\/p\u003e\n\u003cp\u003e\u003cimg src=\"http:\/\/imgur.com\/72iK405.gif\"\u003e\u003c\/p\u003e\n\u003cp\u003eWhen Bolt Magnetic Cable is tugged or pulled, it detaches instantly, preventing your device from flying off the table when someone trips over the cable.\u003c\/p\u003e\n\u003cp\u003e\u003cspan\u003e\u003cimg src=\"\/\/cdn.shopify.com\/s\/files\/1\/0008\/0196\/4098\/files\/bomymjd8sbgwamvcyrwm_grande.png?v=1532684806\" alt=\"\"\u003e\u003c\/span\u003e\u003c\/p\u003e\n\u003cp\u003e\u003cspan\u003eUnlike other USB-C connectors, the magnetic tip of it is very small with only 2.2mm which is ⅓ smaller than the tiniest magnetic tip size on the market. It's so small that you'll hardly notice it. You can use it as a dust resistant plug to prevent dust from entering the charging port.\u003c\/span\u003e\u003c\/p\u003e\n\u003cp\u003e\u003cimg src=\"http:\/\/imgur.com\/dUyCZ5S.gif\"\u003e\u003c\/p\u003e\n\u003cp\u003e\u003cspan style=\"color: #ff0000;\"\u003e\u003cstrong\u003eMain Features\u003c\/strong\u003e\u003c\/span\u003e\u003c\/p\u003e\n\u003cp\u003e\u003cspan style=\"color: #ff0000;\"\u003e\u003cstrong\u003e\u003cimg src=\"https:\/\/c1.iggcdn.com\/indiegogo-media-prod-cld\/image\/upload\/c_limit,w_695\/v1519263452\/cpodazapg7lxmahlsqud.jpg\"\u003e\u003c\/strong\u003e\u003c\/span\u003e\u003c\/p\u003e\n\u003cp\u003e\u003cspan\u003eWe know your devices take a lot of daily abuse; that's why we made the extra durable. Premium neodymium magnets have been added to ensure instant connection, while each cable is put through the tensile test 4,000 times to make the Bolt more durable than any other cable on the market.\u003c\/span\u003e\u003c\/p\u003e\n\u003cp\u003e\u003cimg src=\"\/\/cdn.shopify.com\/s\/files\/1\/0008\/0196\/4098\/files\/QQ_20180727171928_grande.jpg?v=1532683441\" alt=\"\"\u003e\u003c\/p\u003e\n\u003cp\u003e\u003cspan style=\"color: #ff0000;\"\u003e\u003cstrong\u003eOur Guarantee\u003c\/strong\u003e\u003c\/span\u003e\u003c\/p\u003e\n\u003cp\u003e\u003cspan\u003eWe truly believe we carry some of the most innovative products in the world, and we want to make sure we back that up with a risk-free ironclad 90 day guarantee.\u003c\/span\u003e\u003c\/p\u003e\n\u003cp\u003e\u003cspan\u003eIf you don't have a positive experience for ANY reason, we will do WHATEVER it takes to make sure you are 100% satisfied with your purchase.\u003c\/span\u003e\u003c\/p\u003e\n\u003cp\u003e\u003cimg src=\"https:\/\/cdn.shopify.com\/s\/files\/1\/0008\/0196\/4098\/files\/5-23.111111111_grande.jpg?v=1527044071\" alt=\"\"\u003e\u003c\/p\u003e\n\u003cdiv style=\"text-align: center;\"\u003e\n\u003cspan\u003eClick the \u003c\/span\u003e\u003cspan\u003e\"\u003cstrong\u003e\u003cspan style=\"color: #990000;\"\u003eAdd to Cart\u003c\/span\u003e\u003c\/strong\u003e\"\u003c\/span\u003e\u003cspan\u003ebutton now!\u003c\/span\u003e\n\u003c\/div\u003e\n\u003cdiv style=\"text-align: center;\"\u003e\u003cspan style=\"color: #444444;\"\u003e\u003cstrong\u003eLimited Quantity - Will sell out fast!\u003c\/strong\u003e\u003c\/span\u003e\u003c\/div\u003e"}
Magnetic Charging Cable Durable Lightning Reversible USB Fast Charging
Product Description
About the product:
PREMIUM QUALITY, SUPERB DURABILITY & LUXURIOUS LOOK:The auto-aim strong magnet head slot in easily and steadily, and won't get loose or fall out from your devices as your normal lightning cables. Nylon premium braided cord is tangle free and robust promises you.
FAST CHARGING & DATA SYNC CABLE:E

nsure up to 30% faster charging speed than most standard cables. Includes a Magnetic Anti-Dust Pin capable of Double-sided/Reversible charge as well as Data syncing when connected to a Laptop. Blue LED lights indicate the charge and sync.
ONE CABLE, MULTIPLE DEVICES:Save your time and quickly switch between your devices with just one hand. 
MAGNETIC CHARGING CABLE WON'T BE IN YOUR WAY ANYMORE:With our magnetic charging cable you may trip BUT your device will detach and remain safely on the tablet top!
Transform Your USB-C Cables into a Magnetic USB-C Cables
This innovative design will perfectly avoid pointless fiddling to plug in cable even in the dark. Now you can spend less time plugging in and have more time enjoying the convenience that it brings to you.
When Bolt Magnetic Cable is tugged or pulled, it detaches instantly, preventing your device from flying off the table when someone trips over the cable.
Unlike other USB-C connectors, the magnetic tip of it is very small with only 2.2mm which is ⅓ smaller than the tiniest magnetic tip size on the market. It's so small that you'll hardly notice it. You can use it as a dust resistant plug to prevent dust from entering the charging port.
Main Features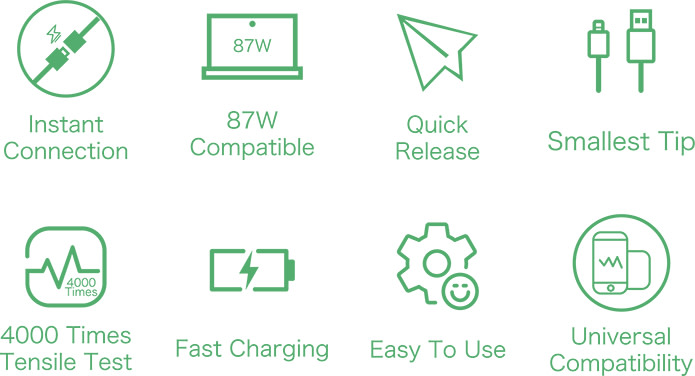 We know your devices take a lot of daily abuse; that's why we made the extra durable. Premium neodymium magnets have been added to ensure instant connection, while each cable is put through the tensile test 4,000 times to make the Bolt more durable than any other cable on the market.
Our Guarantee
We truly believe we carry some of the most innovative products in the world, and we want to make sure we back that up with a risk-free ironclad 90 day guarantee.
If you don't have a positive experience for ANY reason, we will do WHATEVER it takes to make sure you are 100% satisfied with your purchase.
Click the 
"

Add to Cart

"
button now!
Limited Quantity - Will sell out fast!